Injection molding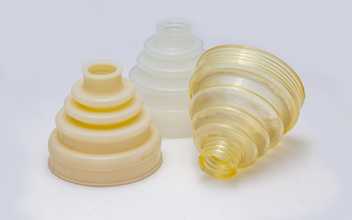 Injection molding is one of the techniques to manufacture plastic products.
This is a technically complex process.
It consists in feeding under high pressure into a special metal mold of a molten thermoplastic that fills it evenly and solidifies.
This technology allows to obtain high quality products consistent with the specified parameters.
Our company performs injection molding of the following thermoplastics:
PEEK - polyetheretherketone,

PPS - polyphenylsulfide,

PMMA - polymethyl methacrylate,

TPU - thermoplastic polyurethane,

HDPE - high-density polyethylene,

PA 6 - polyamide 6,

PC - polycarbonate,

POM - polyoxymethylene,

PP - polypropylene composition,

SEBS - styrene-ethylene-butylene-styrene copolymer,

TPE - thermoplastic elastomer,

LDPE - low-density polyethylene.
In the course of fulfilling orders, including as part of the import substitution program, we use only high-quality raw materials and modern injection molding machines, with a force of 120-900 tons and an injection volume of up to 3500 cm3, which allows to manufacture products from 1 to 3000 g.
Due to these factors, as well as the technical skills of the personnel, our company has become one of the leaders in the polymer industry.
The quality of our products is confirmed by the ISO 9001: 2015 certificate. This techique is used for production of hollow and bulky plastic products.
It consists of using two technologies – extrusion and blowing.
First, the preparation of the future product is prepared in the form of a sleeve, which is then fed into the mold, where it is blown to the required volume due to high pressure, and is cooled.
Our company has installed the modern high-capacity automatic extrusion-blow molding machines, capable of producing containers of various shapes and volumes, up to two liters.
These include balloons, bottles, cans, vials, toys, etc.
The advantages of this technique:
receiving products of any shape

high performance,

automation,

low cost of making molds

the possibility of using recycled materials.
---
Photo